Remediation Analysis for Underground Coal Seam Fires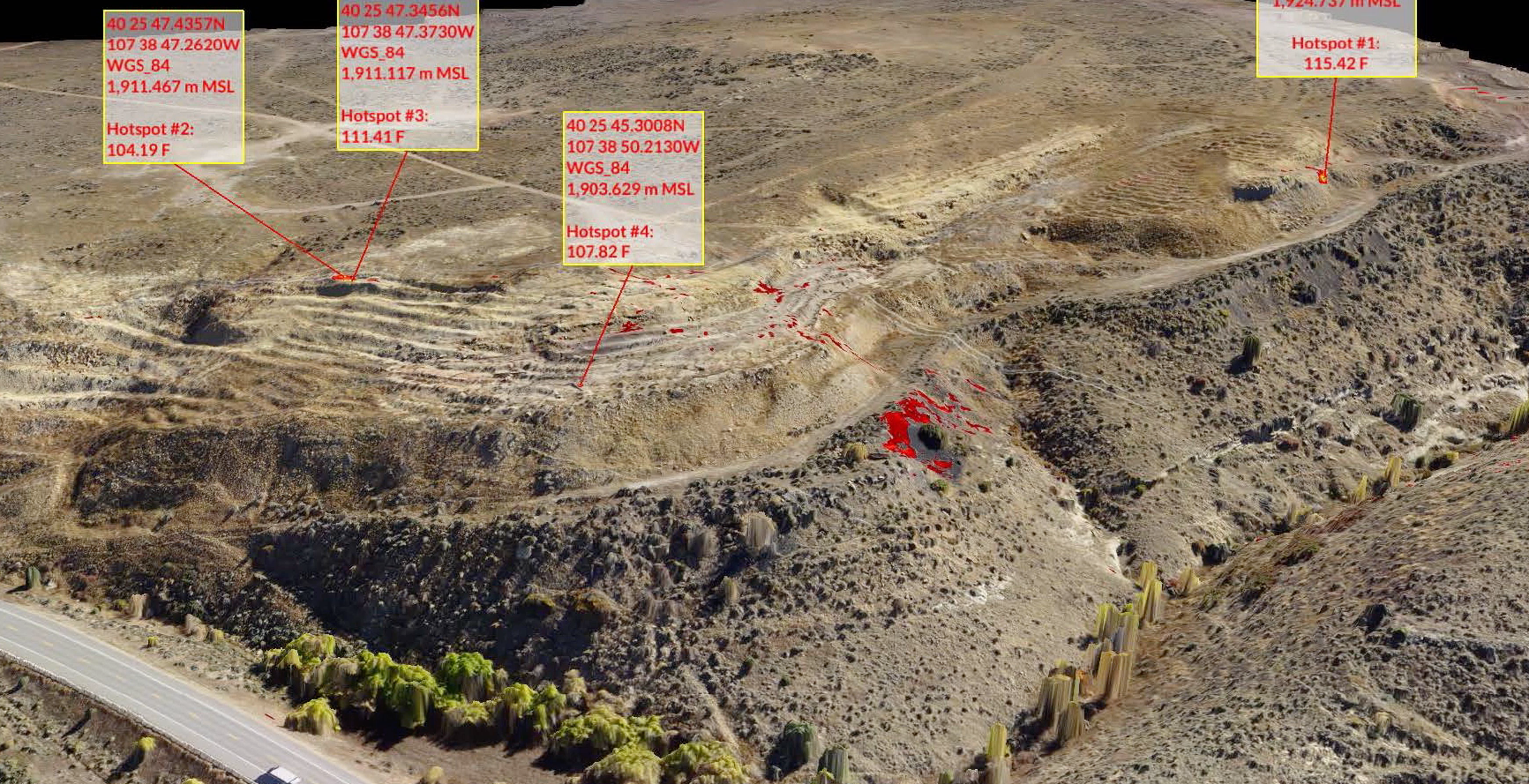 Case Study 2016 – 2017: UAS Application at Underground Coal Seam Fires for Remediation Analysis
Narrative: In 2015 there were approximately 27 underground coal seam fires burning in Western Colorado that were of concern. These fires have continued to cause environmental and health and safety concerns by starting surface fires and emitting toxic gases and smoke from vents. Companies have been contracted by the Colorado Department of Natural Resources to assess and remediate these fires where possible.
In 2016 HRL Compliance Solutions, Inc. (HRL) was contracted to determine if Unmanned Aerial Systems (UAS) can be utilized to reduce project costs associated with the management of underground coal seam fire remediation projects and decrease safety risks for personnel on location at 6 locations. These locations were within a 200 mile proximity to each other in Western Colorado.
Planning and Implementation:  In 2016 HRL was contracted to provide updated aerial imagery and infrared imagery (IR) using leading edge drone technology to assess up to date site conditions. HRL was provided coordinates of the sites to prebuild flight missions prior to mobilizing to the site(s). Considerations for project launch included forecasted weather conditions, site activity, and FAA clearances where applicable. To collect the data HRL utilized a Sensefly Ebee UAV, a leader in fixed wing drone technology. The Ebee is operated with an automated piloting system using internal GPS guidance software. It flies at approximately 20-25 knots per hour with one payload sensor at a time. The two sensors were a Sony RGB camera which collected high resolution images, the other was a FLIR IR sensor that collected thermal data. After both data sets were collected the data was processed and exploited using standardized and proprietary methods. The data was then delivered to the client in multiple electronic file formats.
Results: HRL was able to successfully provide the client with increased site knowledge and increased data accuracy with much faster than previously used traditional IR mapping protocol. This UAV system was applied successfully in 6 hours on average per location resulting in a 70% reduction in field time compared to traditional methods. Additionally, the UAS platform was able to provide an aerial thermal map and volumetric change analysis of the sites at a greatly reduced cost and in an actionable electronic format that was not available before. These cutting edge data products allowed for quicker project completion with less days of construction equipment on site.  Additionally, because the UAS Platform was operated remotely outside the construction boundaries, it eliminated the safety risk inherent with standard thermal field surveys. HRL has been contracted to complete UAS aerial surveys at 27 additional coal seam fire locations during 2018 and 2019.